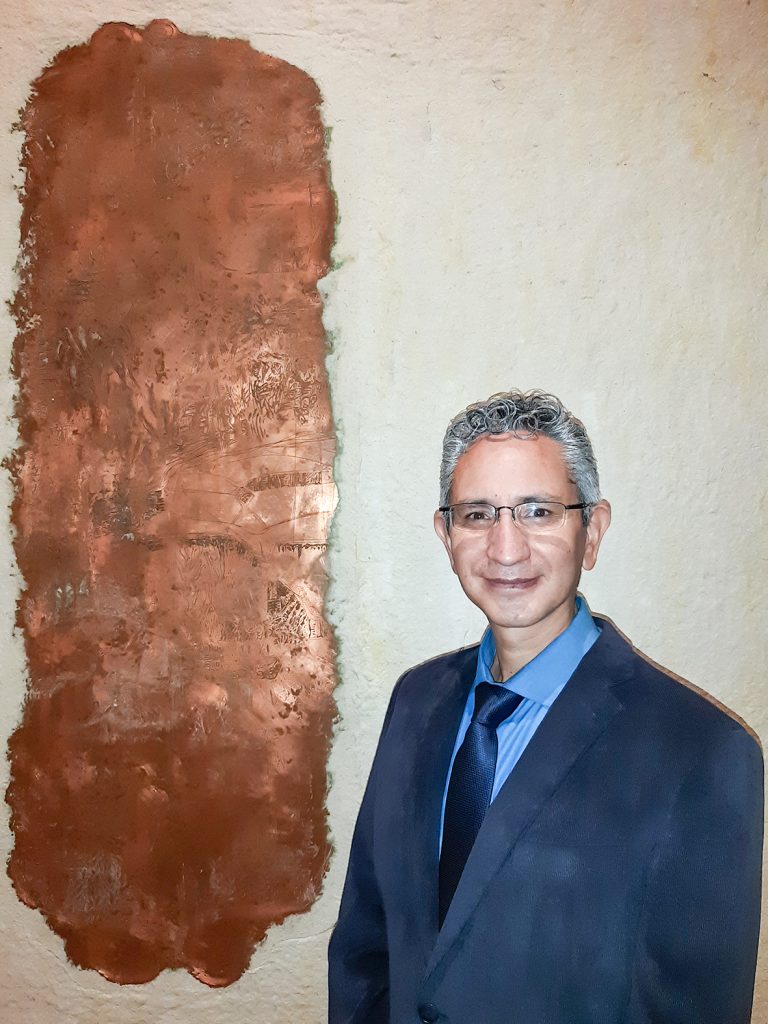 Antonio Romoleroux (Quito, 1968)
Condecoration: Doctor Vicente Rocafuerte, to Cultural Merit, National Assembly (Ecuador, 2020)
Recognition of the artistic career, Ministry of Culture and Heritage (Ecuador, 2019)
Certificate of Excellence, First Pan-Amazonian Arts Exhibition (Manaus, Brazil, 2016)
Certificate of Excellence, V International Biennial of Painting (Cuenca, Ecuador, 1996)
First Prize in Painting Mariano Aguilera (Ecuador, 1995) his piece "Natem" was declared National Heritage of Ecuador, Instituto Nacional de Patrimonio Cultural, code: BM-17-01-03-013-15-001078.
First Prize in Painting, Ministry of Education and Culture (Ecuador, 1991)
Certificate of Excellence, XLV National Engraving Contest (1987)
His early irruption in the art world at age 19 and his abundant work of the highest rank have earned him 18 awards, in addition to those previously mentioned:
Endorsement from Casa de la Cultura Ecuatoriana "Benjamín Carrión" –House of Ecuadorian Culture- (Quito, 2020)
Recognition of the artistic career, Guayasamin Foundation (Quito, 2018)
Recognition of the artistic career, Cultural Center, Catholic University of Ecuador (Quito, 2018)
Recognition of the artistic career, Kumsraum Artescena (Leipzig, Germany, 2018)
Recognition of Career, Humboldt Association (Quito, 2018)
Recognition of the artistic career, Sara Palacios Gallery (Quito, 2018)
Recognition of the artistic career, FIDAL Foundation, Quito, 2018.
Scholarship: Promotion of creativity, Ministry of Culture (Ecuador, 2008)
Certificate of Excellence, Contest XVIII National Engraving Contest (Quito, Ecuador, 1991)
Certificate of Excellence National Engraving Contest House of Ecuadorian Culture (Ecuador, 1990)
Second Prize, XV National Engraving Contest (Quito, Ecuador, 1988)
Is a well-known experimented Ecuadorian contemporary visual artist, with 34 years of professional career, whose original techniques of copper engraving cast on abaca fiber paper and intaglio on canvas (1994 to the present) were meant to convey the spirit of the Amazonian jungle into the urban sphere by capturing the stylized semiotics of ancestral Amazonian peoples. The artworks made with these techniques have gained national and international recognition from the public and several private and public institutions.
Romoleroux strives with every technique of visual arts creation to propose new comprehensions about the planet and the spiritual experience of Oneness, in ceaseless technical and conceptual experimentation. His artistic work turns its gaze to the depths of the self, in the conviction that art must move to transform from that individual being our entire planet. His series "A message from models to humanity" (2016 to the present) gives voice to the thoughts of every resilient being.
Antonio studied at Central University of Ecuador's College of Arts. He keeps a continuous self-taught training and research process in order to systematically innovate his creative work.
Romoleroux has 36 individual displays as well as more than 150 collective exhibitions in America, United States of America, Europe, Asia and Africa. His work is part of numerous collections, including: Museum of the Central Bank of Ecuador (Ecuador), Art Nexus (Philadelphia, USA), Center for Contemporary Art (Quito, Ecuador), Providencia Cultural Institute (Santiago, Chile), Ojo Latino (Milan, Italy), Kumstraum Artescena (Leipzig, Germany) and Gloucestershire co-operative printmaking (Stroud, United Kingdom).